This Situation Report by Kim Goguen was delivered on September 11, 2023 on the United News Network which is available for subscribers of UNN. This is Part 2 of 2 and Kim gives us some words of caution regarding forwarding videos, stories on social media. She shares some wisdom on discernment that is very useful for all of us to hear, especially in light of her broadcast on September 13th which I'm still not entirely through yet and I am learning a whole lot. Consider this post a preface to my upcoming post.
DISCLAIMER
I am just an independent blogger and truth seeker and not affiliated with Kim Goguen or her team. If my writing style has led anyone to believe I speak for Kim then let me be absolutely clear, I just takes notes when I listen to her intel reports and assemble them into an article. They should not take the place of hearing from Kim yourself. My posts are only aides to her videos which are ALWAYS linked in my posts. If you heard her talk about something and need help finding the video where she mentioned a particular topic, I hope my site can aid you in your search.

When I first started learning from Kim many years ago, before she started United Network News, I had a really hard time finding information about her. I've heard others say the same thing. So instead of sitting on the sidelines and complaining I decided to do something to help.

Given the serious situation humanity is confronted with, which is psychopaths are doing their best to carry out their ultimate plan of killing us all, I firmly believe the information Kim provides, what she teaches and her intel reports should be more public, more accessible. That is a good priority to have, at least in my head it is and even more in my heart. So, let me be completely transparent. I am just a human being who has learned an awful lot from Kim from listening to her. I'm a decent writer, so I'm trying to help by providing another avenue to share that information. This is where my moral compass has directed me during these difficult times.

PJZ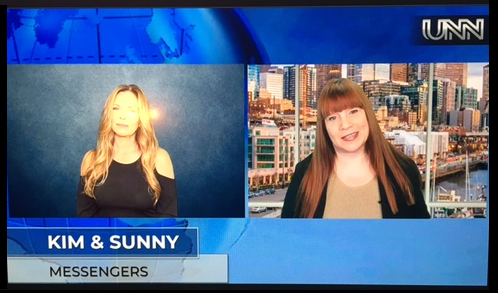 https://www.unitednetwork.tv/videos/11-sep-23-news
Social Media Platforms
Facebook, Tik Tok, Twitter (X), Snap Chat, YouTube, etc., all these programs were to transition into your social credit program. It was all about that, can they proliferate that program utilizing social media, period end of story.
Facebook is a SSP program, meaning it was created by the 15 secret militaries, then it passed through DARPA and then to the red headed cannon fodder guy who never created anything.
Tik Tok is a Chinese program run by Chinese Agency people and if you mention anything about China in a bad way you will be deleted.
Twitter/X: Elon Musk, the same guy who tried to fry us all this morning on the orders of Rothschild is the owner of Twitter, so is that a safe place to be?
YouTube, Rumble, and Odyssey run test programs; the algorithms are there. Maybe they will not lock you out immediately because they want to see what you will do, but all the locks/algorithms are all there and they can take you down at any time.
Influencers
Know that Tik Tok influencers are going to be the first ones that show up in your feed when you type 'Maui Fire.' They are always going to be the most popular influencers because you have the Chinese secret service putting those numbers in there for you. Just like the popular Youtubers/CIA agents who show up in your feed telling you what they are doing and what is real and what is happening when it is really all just distractions to, look here, not there. They do it in Rumble too except that is all their favorite MI6 people, DARPA people and Umbrella Military people and their influencers. They all get millions of views because it only takes one stroke on the keyboard and now you have 1,000 views on Rumble.
They created all these programs and have the software backdoor. They can access anyone's YouTube page and pull all your videos off. But not only can they do that, they can ramp up their own so they show up first in the feed. It is not just an algorithm; they have humans monitoring and manipulating. Hey look, Bob is promoting the fear program of the DEW weapon. Hum, well since we want everyone to talk about the DEW weapon right now because we need to be scary people, we need them to know the government is scary, let's bump up their rank and numbers. They need to be scared we are going to torch their neighborhood, so, get them to talk about DEWS and how they work as much as possible. Now look at all the social media people putting out DEW videos.
How They Implement a New Program
When they want to implement a new program, like the 'Maui Program,' the 'Fire Program,' 'Fear Program' you will start to see all your social media influencers everywhere, the glittering headlines everywhere, and the alleged average everyday folk, who also have been paid for all over social media. That is what they worked towards. That is also why the Deep State wants average everyday folk to have a million followers, because when you get up to that level in followers you now become a useful tool for the Order, hired as a tool by some pimp in the downline. Now you are an operative, no different than any other operative.
---
Words of Caution About Social Media Programs
Let's take an example, 2,000 kids have gone missing in Maui and I am a social influencer and I just happen to be in Maui on vacation right now while it happened, wow that is a shocker, who paid for that vacation? They are all running your social program, just to a lesser degree than the fear they are putting out about ID 2020 now ID 2023, which we who follow Kim know they still do not have and never will have.
But she wants to caution us about these social media programs. While some of us have connections to our higher selves, Source, your soul connection however you describe it, and are saying to ourselves, this does not feel right and we listen. But some of us do not and we press the button and forward the fear porn to other social media pages without truly knowing if it is true or not.
How to avoid this problem?
A Lesson in Discernment
Kim used her favorite saying as an example:
"Small minds talk about people"
You are talking about people like you know them, you can't help yourself.
But just stop! Take the drama out of your life. Refrain.
"Average Minds Talk About Events"
How many people have forwarded a video of a DEW in Hawaii? Does it matter to you? Maybe.
Mitch McConnel fell down, does that matter to you?
An earthquake happened in Morocco – which deep state member is responsible for it?
Where are the 2,000 missing children in Hawaii? Why is Kim not doing anything about it? She is awful (which goes to a smaller mind).
She has told us a million times she is not our savior. Why don't you get on a plane and find those kids. Get a GoFundme account and save the kids yourself. If that is not possible remember she is doing all she does for no money, why don't you? She does not get paid until we get paid.
Bad things happen all over the world. You can choose to spend the entire day talking about the doom but you are not going to undo it. So please figure out what you want to do with your day and think about what Kim is telling us before forwarding fear porn because you will help create an entire world full of fear that can now manifest an event. Do not help them!
"Great Minds Talk About Ideas"
This is why Kim likes this quote so much.
A great mind would look at the event in Maui and they would say something about this:
I can go to my local schools and ask if I can donate old clothes, canned goods, collect money and find a food bank there and donate all this so people can get it for free.
If my house burned down and had to relocate to the other side of the island, what could I do to help.
A 'great mind' would not spend 5 hours on Tik Tok forwarding videos and comments on who was responsible for the DEW and who went missing. A 'great mind' has an idea, has a thought, has a plan, and then executes on that plan because anything is possible. There are those in this world who do and those who spend their time saying, why you cannot. So, first stop yourself because whether you say you can or can't you're right.
Instead of posting 2,000 children go missing before you even research where they could have went, think and research first. Many children went to the other side of the island and to the mainland. There are not that many children who are recorded as not re-enrolling in a school district somewhere on the island. If you go and look at the numbers, you will see that. Come on people, DISCERN! She is not asking us to use skills we do not have because if you are watching this you have internet, you have a phone to do some base level research yourself. You need to think, I have a great mind, what ideas can I think of regarding these events and then put them to work?
If you are going to send out or forward something that talks about the social crediting system for example, before you hit that button here are some things you need to do:
Analyze and research what the features would be of the social crediting system as disbursed on social media. What is it?
For instance, it is going to analyze your spending habits, your health, your job and if you don't comply with the program and all the factors, they will take away your ability to bank and destroy your health. Now think about all the data processing power it takes to do that. Research before you press your agenda and send to everyone because now it has become your agenda.

Look at the quantum computing systems they have left. They do not have any more alien tech left to make this happen.
Remember that was also not created by them, the whole program was not created by them. They are just 9 layers down in the food chain complying with an order that came out in the 1980s. So please before you start sending emails on central bank digital currency (which isn't even for us), digital IDs, vaccine passports etc., look at the quantum computing power they have left. Is this possible? If you are worried about them controlling you in a one world government, they need a central system of control. Do they have that? The ID 2020 has been out for 10 years. It is part of the social media fear program, how many will buy it. Just like the flat earth story. They can convince people of anything because it's on social media. Again, pay attention to what you are doing and do your research before you push your fear on someone else.
---
The More the Deep State Loses the More Baloney We'll See in Social Media
Kim is not saying some of these events are not real, but rather than spread more fear she makes an assessment and then takes an action. Again, there is only so much she can do and we can do. Another wingnut can just take their place and take a machine somewhere and do the same thing in another location. She knows very well what they are doing to the children and she is doing her best to mitigate all these things but she is just a single human. She has a big system she built for that purpose, but there are hundreds of millions of red dots that show up at any given day and there is only so much she can do by herself.
If You Were Dr. Evil Creating This Agenda, What Would You Do?
Kim gives us the Situation Reports hoping we understand what is possible in the world and how it was run for billions of years long before humans showed up here, and so we can prepare ourselves for when a transition of power happens. They are going to grasp everything they can from your consciousness, grasp your time watching videos. They are going to say to you, great I can still create fear, let's burn this and say Satan did it and Hell on Earth has arrived. Don't let them waste your time and do that to your head. Do something else, anything that connects with other humans. It is good to know what is going on in the world so you do not panic, so others do not panic and hopefully she told us enough over the last couple of years to know what is happening with governments. Even in the mainstream they are talking about government shutdowns, it is happening. Discernment is going to be extremely important, so before you push that button just think first, is this possible?
FEAR NEVER CREATED ANYTHING AND IT CERTAINLY NEVER STOPPED ANYTHING FROM HAPPENING
Therefore, think before you put your network or the whole world in fear!
You cannot undo a tragic event that already took place, but…
with a great idea and great mind you can prevent it from happening in the future.
---
The Joke About All the Organs in the Body Deciding Who is in Charge
For all of those who wonder what Kim does and why the Deep State is still out there, she wanted to end this report with a joke to address this. It's about all the organs of the body and they were having a meeting to decide who was the one in charge or who was going to be in charge. Sound familiar? What has the deep state been doing lately?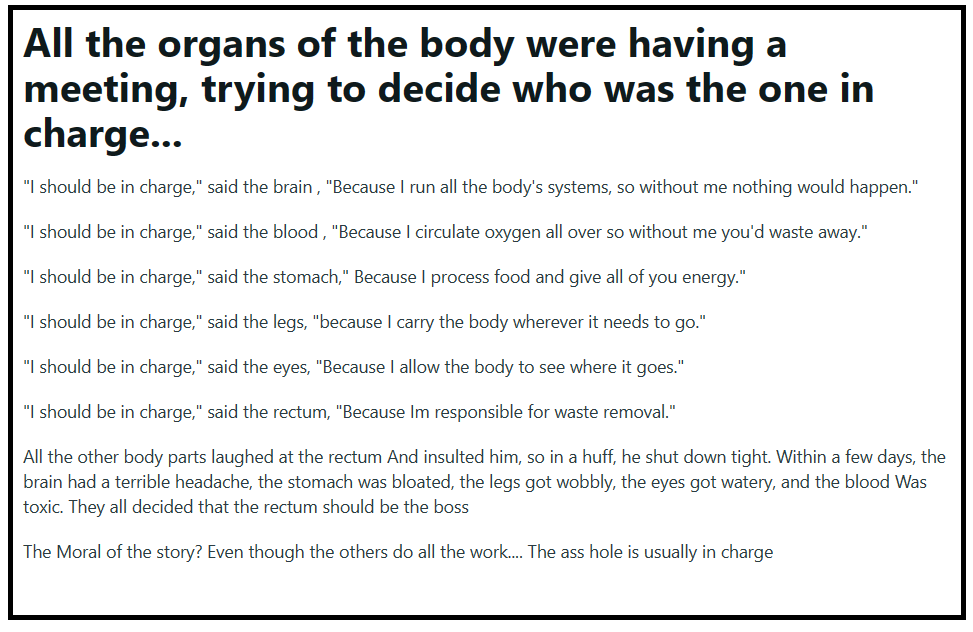 Shut down tight? Hum, kind of like what they do to Kim, they reject her, don't talk to her, shut her out, make her wait, say we're in charge. That is what she gets all the time.
One day maybe we too will all understand through this little joke why she shared it. Why last week she said she is not playing with the governments anymore. So good luck to all those people who think they are in charge because at the end of the day if no money comes from Kim eventually the following will happen: They are going to be bloated, their legs won't work anymore and everything is going to be falling apart. Because if Kim shuts down tight, which she has, it's all going to fall apart, it's just a matter of time. At the end of the day if Kim doesn't work, they don't work.
Sometimes you have to think of it from that standpoint. There is always a strategy here, she always thinks, and then what? It might take a couple of weeks or a couple of months, but they will figure it out, one day.
PJZ
---
Related Posts | Based on Kim's UNN Situation Reports
Follow this link for the entire list categorized by most recent to the oldest at the end of this post, Who is Kimberly Ann Goguen, aka "Kim Possible"? | Just Empower Me