DISCLAIMER
I am just an independent blogger and truth seeker and not affiliated with Kim Goguen or her team. If my writing style has led anyone to believe I speak for Kim then let me be absolutely clear, I just takes notes when I listen to her intel reports and assemble them into an article. They should not take the place of hearing from Kim yourself. My posts are only aides to her videos which are ALWAYS linked in my posts. If you heard her talk about something and need help finding the video where she mentioned a particular topic, I hope my site can aid you in your search.

When I first started learning from Kim many years ago, before she started United Network News, I had a really hard time finding information about her. I've heard others say the same thing. So instead of sitting on the sidelines and complaining I decided to do something to help.

Given the serious situation humanity is confronted with, which is psychopaths are doing their best to carry out their ultimate plan of killing us all, I firmly believe the information Kim provides, what she teaches and her intel reports should be more public, more accessible. That is a good priority to have, at least in my head it is and even more in my heart. So, let me be completely transparent. I am just a human being who has learned an awful lot from Kim from listening to her. I'm a decent writer, so I'm trying to help by providing another avenue to share that information. This is where my moral compass has directed me during these difficult times.

PJZ
---
Kimberly Ann Goguen wears many hats. Her role is unknown by the majority of the people around the world. However, she is very well known by members of the Deep State. One of the reasons for this is because she replaced their malevolent predecessor, Marduke over a decade ago. Her predecessor was the Cabal's leader, not the peoples' leader by any stretch of the imagination. But in reality, he wasn't their leader either. They too were his slaves, but they didn't see it that way. In fact, many still don't see it that way.
Kim is the first person to hold this seat who wants to end the human enslavement that has existed on our planet for over sixteen thousand years, not perpetuate it. This has gained her many enemies and few friends. But that surely is going to change as humanity finally starts to really wake up to the facts of how, when, why and by whom human enslavement was imposed on our planet.
I base many of my blog posts on information I obtain from Kimberly Ann Goguen's intel updates which she has been providing for the last couple of years. She delivered updates via zoom meetings with the members of Life Force and now delivers on United News Network.
Jump to Related Blog Posts List and Related Videos.
Kim Wears Many Hats
The hats she wears and roles she fills are listed below. I updated based on a recent interview she gave by Chris Rice on 4/4/2022:
Universal Protection Unit Command (Ground Command)
Ambassador to Earth for the Universal Council for this version of Humanity
Human Ambassador to the Earth Council, established in 2021, (which is for all Earth Races Human & Non Human)
Controller of the Alpha Quantum System – of which her DNA is a necessary component

Note: There was a dueling dark system on this planet called the Omega System (associated with Starlink and Elon Musk) which is now gone.

Guardian (What is a Guardian?)
Controller of Global Intelligence Agency (GIA), has highest Security Clearance on Planet Earth
Representative of Humanity for Disbursement of Planetary Assets, Trustee, Manna World Holding Trust

Note: After the agreements with the elites expired, because the assets/trust were named after the elites and their corporations, Kim renamed and registered as Manna World Holding Trust. Since 2019, when the Restoration Plan was approved, she started renaming accounts by need. For example, one is the Environmental Fund, and underneath that are separate accounts for new fuels.

From the original Rus Bloodline or Tribe, which is the root of all true Europeans and one of the five original Human Tribes. This tribe is also called the White Sun. They utilized the upper astral and had relationships there. Their opposite would be the Black Sun, who accessed the lower astral.
Interim Head of State
Founder of Life Force
Kim has caused major upheaval on all levels of the so called elites, and they have been doing everything possible to bring her down and regain control of the Alpha Quantum Mapping System (QMS). The Alpha QMS holds all the above ground assets, below ground assets, and human assets on planet earth, and a slew of other things that are beyond my scope of understanding. But from what I understand, every asset is mapped based on its origin. Humans are considered assets to the cabal. Actually they consider humans as 'live' stock and we are literally traded (our birth certificates) on the stock exchange. They consider us food and covet our life force energy which is highly valued by beings who are (or believe they are) unable to manufacture life force energy themselves because they are cut off from the soul matrix.
January 21, 2021 is Liberation Day!
Yesterday marked a truly glorious day and Kim delivered on her previous week's report where she said January 21st 2021 will be Liberation Day. I truly am so incredibly grateful to have learned about Kim a few years ago, the role she has on this planet and her immense heart. The following press release was delivered by the United News Network.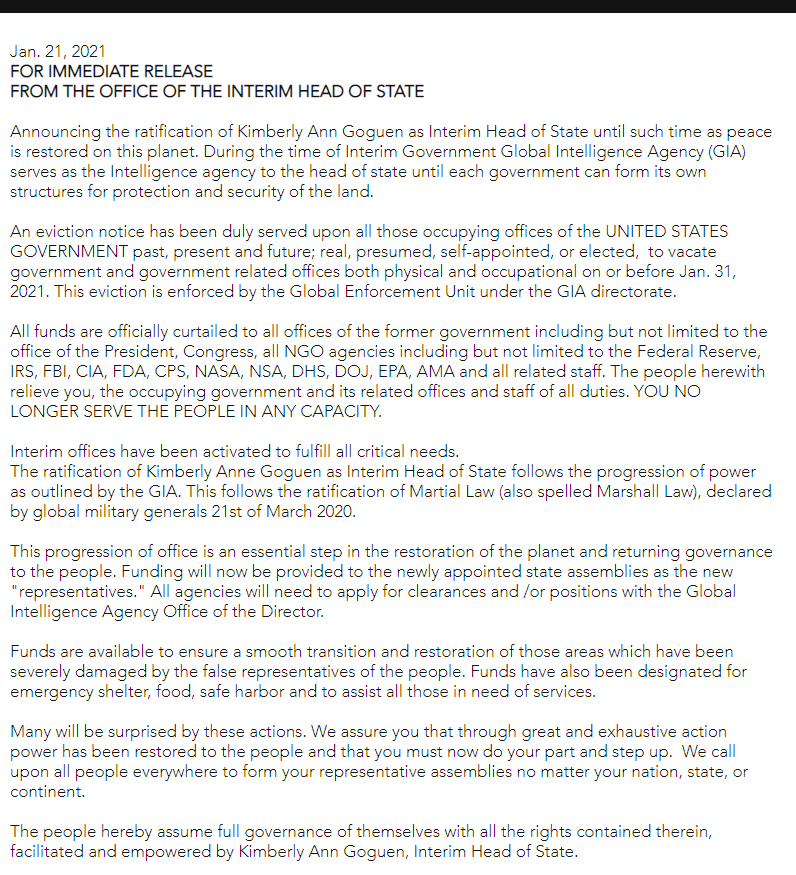 ---
For some background on the Global Intelligence Agency (GIA) that Kim refers to in the above press release, you can refer to my blog post entitled, The Enforcer, Our Central Sun & The End of the Loosh Farm (Kim Goguen – Part 3). For more information about Kimberly Ann Goguen, aka 'Kim Possible' please visit the Speak Project website.
---
Kim Goguen Related Videos
Kim Goguen and the Financial System by Penny Kelly
Penny Kelly created two excellent videos below about Kim and the Financial System on February 16, 2022, and then the Financial System on February 18, 2022.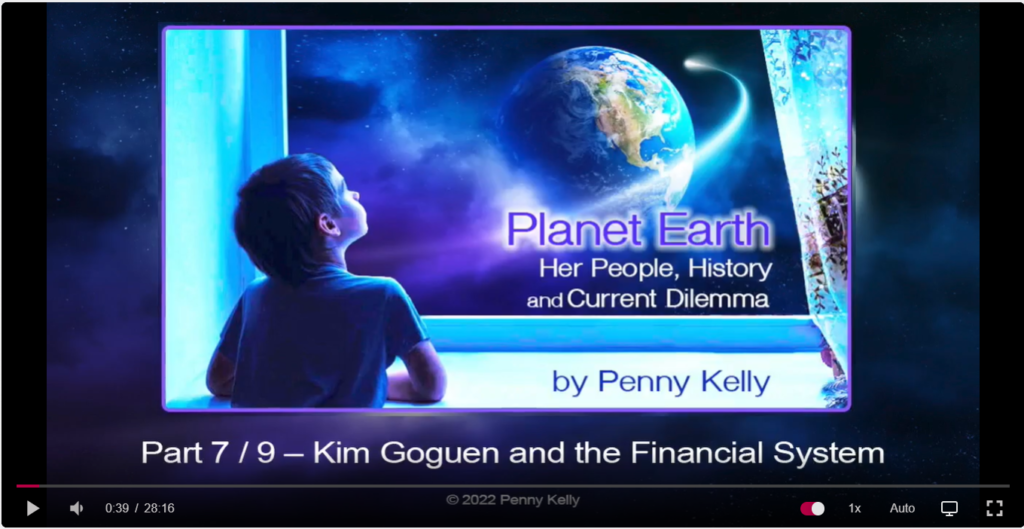 ---
Kim Goguen Explains the Financial System in 2020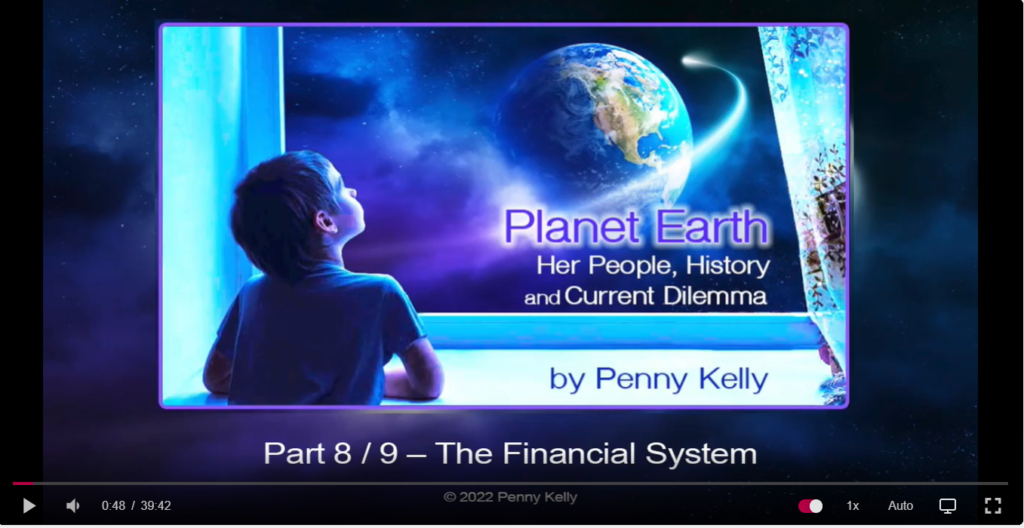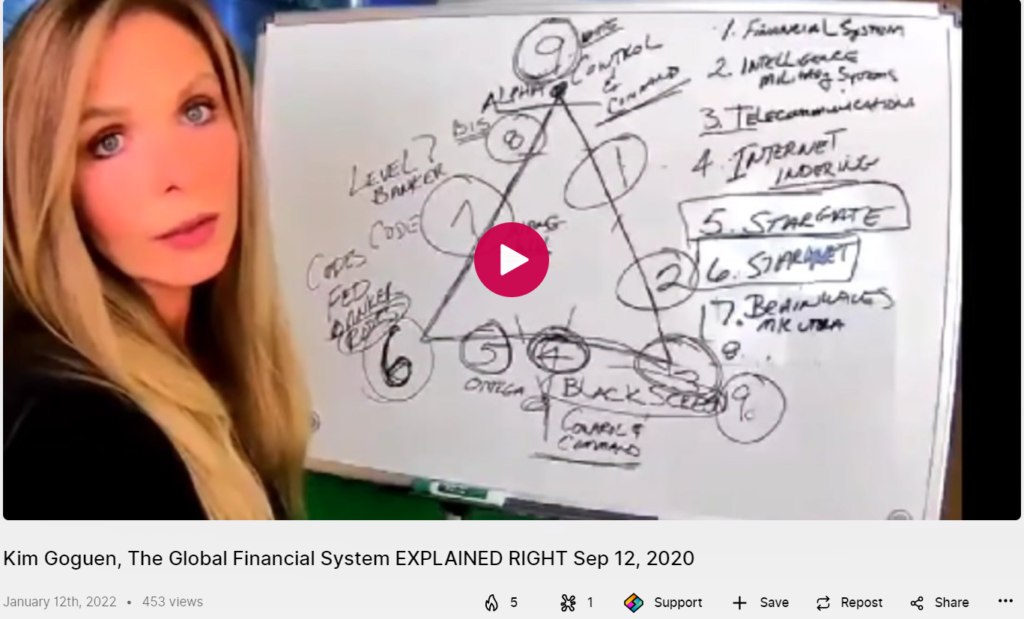 ---
A Q&A Session with Kerry Cassidy in 2021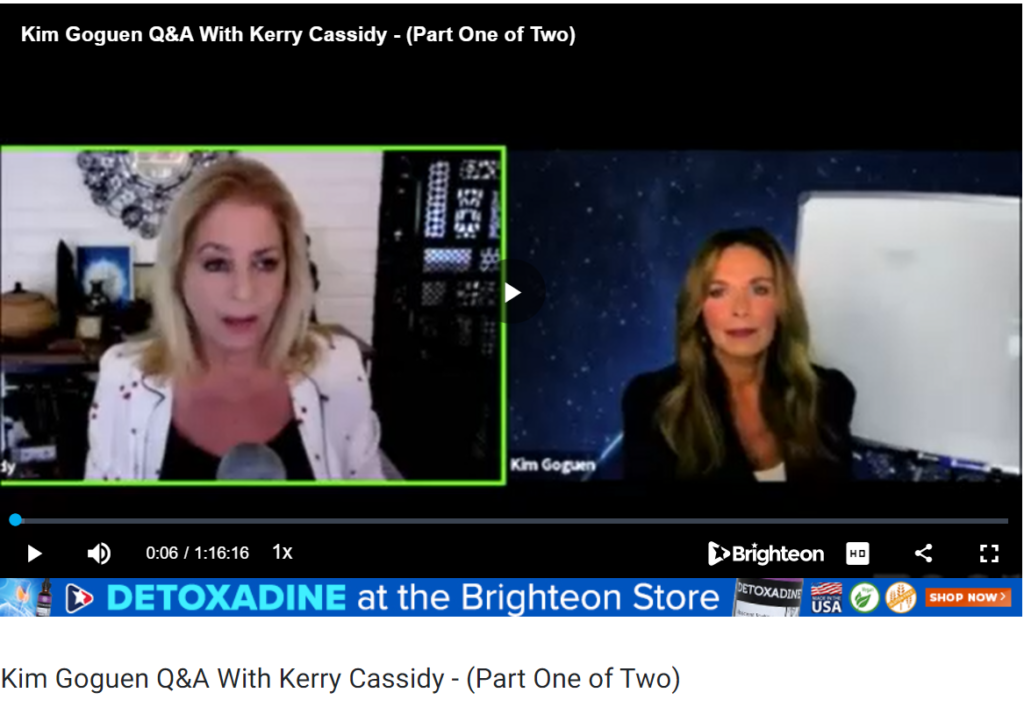 ---
Kim Goguen: Interview 3: Brave New World: White Hats and Dark Side Players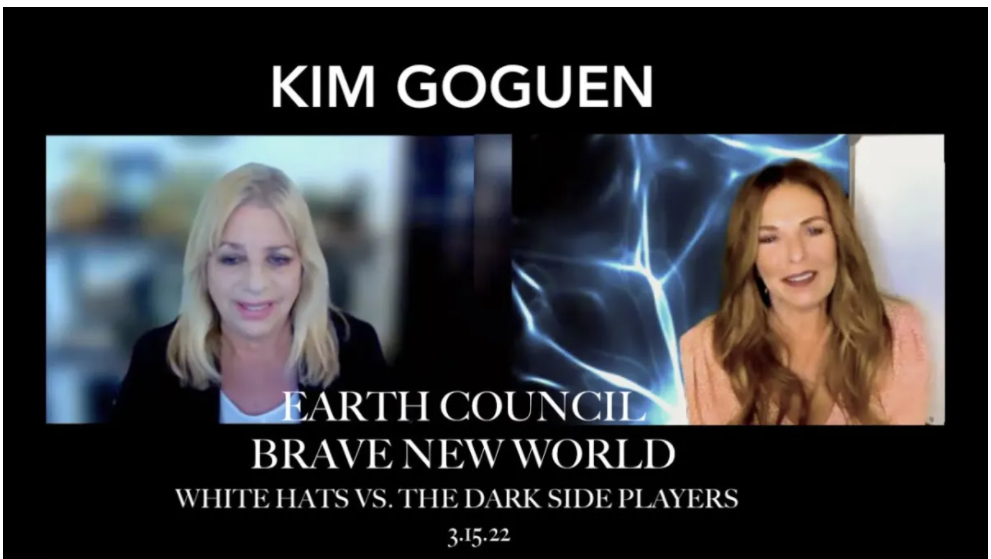 Kim Goguen & Benjamin Fulford – March 9, 2022
---
---
Related Posts | Based on Kim's Intel Updates Provided in Life Force Meetings & UNN Special Reports
---
To learn about The Order, the hierarchy on Planet Earth, be sure to check out the below posts which is a five part series based on Kim's Education/Intel Sharing provided during the Life Force Weekly Update zoom call on 11/15/2020.
The Order is Gone! (Disclosure Report 6/27/2022)
Review of the Former Control Structure on Earth for Next Level on Deck, the Remaining Floundering Coven Members | Part 1 Published 07/28/2022 | UNN Special Report (DISCLOSURE) 06/27/2022
The 13 Groups in the Shadow Military | How Intelligence Agencies Were Structured | 41 Coven Members Left Still Floundering | Part 2 Published 07/29/2022 | UNN Special Report (DISCLOSURE) 06/27/2022
The 5 Shadow Agencies | Kim's 30,000 Year War with the Draco | Kim's Clones Past & Present | Part 3 Published 07/31/2022 | UNN Special Report (DISCLOSURE) 06/27/2022
---
What is a Guardian?
Lisa Renee has information regarding the Guardians which I am providing below. I personally have not heard Kim discuss what a Guardian means from her perspective in detail. Lisa Renee references Guardians often in her material, on her site, Energetic Synthesis, so it isn't a new concept for me, and I thought it would be helpful to provide a source where it's better explained. I am just trying to connect the dots on my own, so I may or may not be correct with regards to Kim being a Guardian in this context. She did make a point of mentioning she resides over this version of Humanity, so I am not sure if that is an essential fact to point out within the context of being a Guardian in the information I'm referencing below. However, I am presuming she fits the bill based on what I have learned at this point in my level of understanding.
Guardian Host
The Guardian Races currently Hosting this Ascension cycle that reside in the Universal Time Matrix at 12D Ray, Kunda-Ray and above, into the Threefold Founder Flame of the GSF Triad. The Guardian Host and their families are synonymous with the Christos elders of Krystal Star, the Lyran-Siran Founders, Holy Emerald Order, Gold Order RA Confederacy, Amethyst Order of the Ancient Master Builders and Architects that are stemming from the Master Christos Collective and Oraphim that protect the Law of One, which is the ascending path to GSF, for any being to be able to Ascend, evolve their consciousness and exist as God, Sovereign and Free. Their mission is to protect and insure that all species discover and fulfill their genetic plan of true spiritual enlightenment and multidimensional heritage as they were intended.

Source: Guardian Host – Ascension Glossary

PJZ